The Royal Roads Military College collection includes records of the former military college on the Hatley Park site and its antecedents — HMCS Royal Roads, Royal Canadian Naval College, Royal-Canadian Navy–Royal Canadian Air Force College, and Canadian Services College Royal Roads.
The collection also includes private donations from ex-cadets and former staff.
Library and Archives Canada holds additional records.
Access the collection
You can access the RRMC collection online. You can view the digitized collection as an online flipbook or through the archives database. You can download a PDF copy to keep from the latter.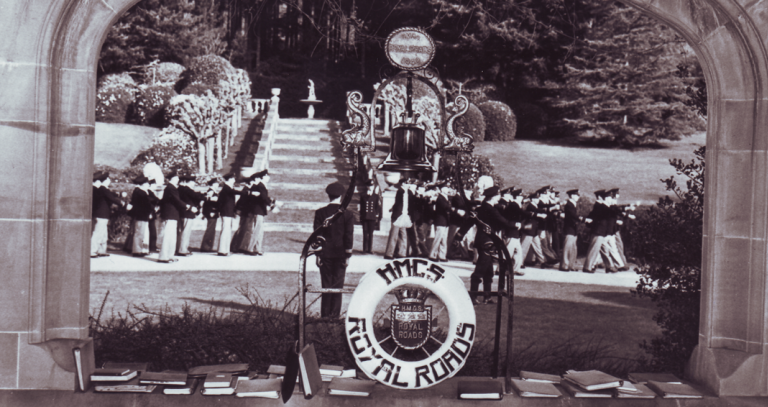 Timeline — RRMC at Hatley Park
1940

The Canadian government purchased Hatley Park from the Dunsmuir family and opened HMCS Royal Roads to train RCNVR sub-lieutenants for the navy during World War II.
1942
The new Royal Canadian Naval College, Royal Roads, opened with 100 cadets, 50 in senior year and 50 in junior year.
1948
A tri-service college was created with the name Canadian Services College Royal Roads. The previous year, the air force had combined training with the naval college, creating the short-lived RCN-RCAF College Royal Roads.
1951
Her Royal Highness Princess Elizabeth visited the college.
1955
The Nixon residence block opened, meaning cadets now had their own cabins instead of 25 cadets sharing each of the dorm rooms in the Grant block.
1958
The Governor-General visited, and the entire college appeared in scarlets on the parade ground for the first time. A swimming pool and squash courts were added to the gymnasium.
1963
Two pairs of peacocks were introduced to campus as a gift to the commandant from a family in the Okanagan.
1967
The name of the college officially changed to Royal Roads Military College.
1972
The class of 1946 erected a granite memorial in the Italian garden to commemorate the Royal Roads graduates killed in action.
1974
The Coronel Memorial Library opened. Cadets were responsible for moving books from the library in Hatley Castle to the new location. The library was named after the Battle of Coronel where four RCN members of the class of 1911 died on board the cruiser HMS Good Hope.
1976
Royal Roads Military College attained university status and began offering degree programs.
1984
Female cadets came to Royal Roads for the first time.
1994
The federal government announced that Royal Roads Military College would close. The final class graduated in 1995.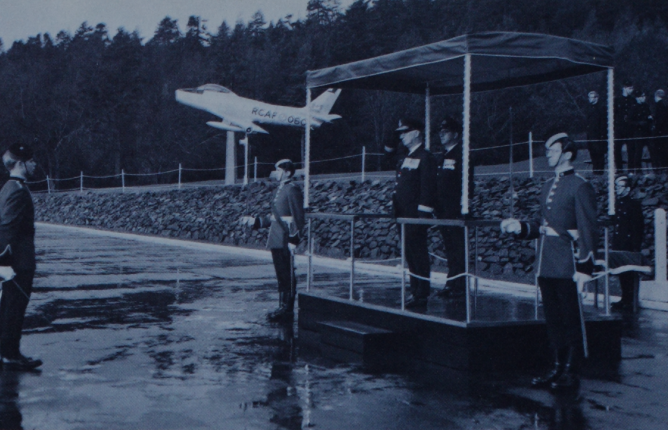 The Log yearbooks
The Log yearbooks recorded annual happenings at Royal Roads Military College and its antecedents.
View the Log yearbooks online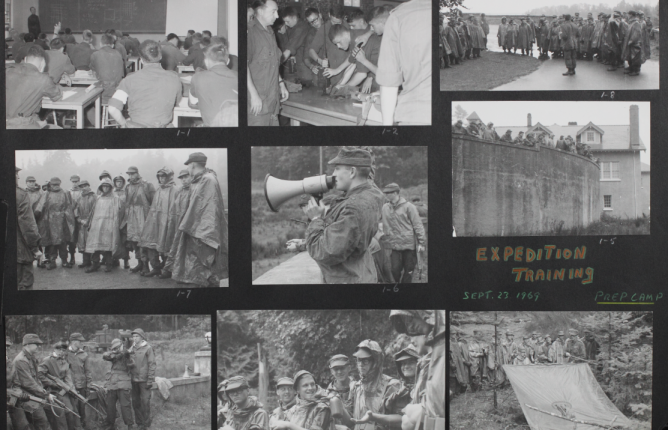 Photograph albums
These large-format photograph albums commemorated annual events at the Canadian Services College and Royal Roads Military College from 1963 to 1988.
View albums online